On Saturday night……
Fife Flyers 0 Belfast Giants 1 – Challenge Cup
This was the Flyers 100th game in the EIHL Challenge Cup, with 50 games played at home their record is 23-26-1 whilst on the road it is 14-34-2
The loss was the Flyers 11th consecutive at home and 22nd consecutive overall to the Giants
Being shutout was the second blanking for Flyers this season and 12th against the Giants in all EIHL competitions with five of those being at Kirkcaldy
16 shots on goal is the lowest total against the Giants in the last 25 home matches stretching back to 1st  March 2016 when Flyers had 13 for the game
There has only ever been one other 1-0 win for the Giants against the Flyers in the EIHL and that was the Play Off semi final at Nottingham on 5th April 2014
On Sunday night ……
Coventry Blaze 4 Fife Flyers 6 – League
The Flyers won their opening league game for the first time in three seasons. Of the 12 league openers in their EIHL era the Flyers record now stands at W 5 L 7 F 31 A 29.
It's the 8th time Flyers have opened their league account against the Blaze and that record now stands at four wins each
The win ended a run of seven defeats against the Blaze at the Skydome
Johan Eriksson's second goal of the night was the Flyers 900th on the road in all EIHL competitions
Troy Lajeunesse was credited with 9 shots on goal which is the highest single game total for a Flyers player so far this season
The Flyers have killed 18 of 19 penalties in their last four games – on the flipside the powerplay has  1 goal from 21 times with the man advantage
There were a number of firsts in this game:
Johan Eriksson made his Flyers debut and also scored his first goals/point – Johan became the 20th Flyers player to score on his EIHL debut
Ben Hawerchuk, Troy Lajeunesse and Kyle Osterberg also scored their first goals for the Flyers and Collin Shirley his first point
Reece Harsch also made his first competitive start of the season
FOOTNOTE
The game night stats from last Sunday night were revised by the EIHL with the SOG totals now reading 51-31 in favour of the Flyers. That sets a record for most shots on goal in an EIHL game for the Flyers.
Troy Lajeunesse was also credited with 8 shots in the game which at that point was the highest single total for a Flyers player this season
IN PICTURES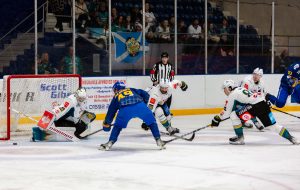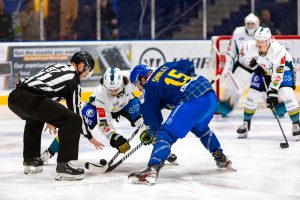 FLYERS BY NUMBERS
NOTE – information above is subject to verification by the EIHL
CHALLENGE CUP GROUP STANDINGS
LEAGUE STANDINGS
Who have the Refs Been ?