WEEK 1 of the 2023/24 Elite Ice Hockey League season commences with the Flyers facing the Glasgow Clan in Challenge Cup action on Saturday and Sunday evening.
SATURDAY SEPTEMBER 23rd v GLASGOW CLAN @ BRAEHEAD ARENA – FACE Off 7.00pm
Recent Form Guide
Similar to the Flyers, the Clan also played a four game preseason schedule. They played three games on the road starting with a double header in Cardiff. In game one they had the Devils tied 1-1 entering the last 15 minutes before two quick goals gave Cardiff the edge. Clan pulled a goal back but Devils iced the win with an empty net goal with four seconds remaining. The next night the Devils raced to a 4-1 lead and ended up comfortable 6-2 winners. Last weekend Giants provided the warm up opposition and in Clan's first home game of the season the Grand Slam winners triumphed 5-2 at Braehead Arena on the Saturday night. The following night the Clan shocked their hosts with a fine 3-1 victory at the SSE Arena. Jake Bolton fired a double and with three goals the blueliner has been the Clan's top sniper in preseason. Six other players each had a goal in preseason. One set back for Clan in those games was the loss of Charlie Combs who sat out last weekend with an injury and his status for the opening weekend of the season remains unclear.
Last Visit to Clan in Challenge Cup
Overall Challenge Cup Away Record Against Clan
P 9 W 2 L 7 F 30 A 40
Number Crunching
With two wins last season in the Challenge Cup against the Clan the Flyers last defeat in the competition to their West Coast rivals was 5th October 2019.
Shawn Cameron's hat trick on opening night in last seasons Challenge Cup was Flyers second in that competition against Clan, Mike Hamilton in season 2011/12 being the other. The Clan have scored three hat tricks against Fife in the Challenge Cup – Krestanovich 2011/12, Chaumont 2012/13 and Wharton 2016/17.
Flyers are looking for their first win in six games in all competitions against the Clan and their first win at the Braehead Arena since opening night last season.
Clan's top scorer from last term, Gary Haden, has scored in each of his last five matches against Flyers and bagged ten goals in all games last season against Fife.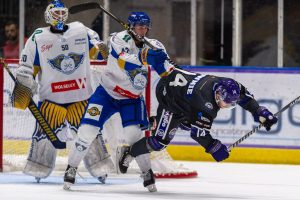 SUNDAY SEPTEMBER 24th v GLASGOW CLAN @ FIFE ICE ARENA – FACE Off 5.15pm
Last Visit from Clan in Challenge Cup
Overall Challenge Cup Home Record Against Clan
P 9 W 6 L 3 F 33 A 26
Number Crunching
Flyers will be looking to end their current three game losing streak against the Clan at Fife Ice Arena, the longest such sequence since renaming as Glasgow. Defeat would equal their worst ever run at home against Clan which came against the Braehead version.
Flyers top scorer against Clan since their Glasgow formation is Evan Bloodoff with seven goals. For Clan it is Mathieu Roy with a dozen goals against the Flyers
EIHL Roster Summary
The following is a "cheatsheet" to the roster changes made by each team to start this season.