On Saturday night……
Fife Flyers 2 Glasgow Clan 3 – Elite League
The Flyers have still to record consecutive wins at home against the Glasgow version of the Clan.
Congratulations to Casey Gilling who recorded his first goal for the Flyers.
It was the first game to be decided in overtime this season for the Flyers.
The last five Flyers games to go to overtime have all been on home ice with the Flyers winning only once – their all-time record in overtime in all EIHL competitions stands at 29 wins and 29 losses.
Flyers are 6 and 4 all-time against Clan in overtime.
Kyle Osterberg recorded a season high 26:39 Time On Ice for a Flyers forward, he held the previous best with 25:35.
The 29 shots against is the Flyers lowest shot count conceded this season.
On Sunday night ……
Guildford Flames 5 Fife Flyers 2 – Elite League
Congratulations to Reece Harsch who scored his first goal of the season and the Flyers 900th road goal in all EIHL competitions – excluding shootouts.
The Flyers equalled their season low shots against count of 29 from the previous night.
It was the first time in 15 games that the Flyers had outshot the Flames.
Congratulations to Aleksi Mäkelä who scored his first Flyers goal.
The 6 shots conceded in the second period equals the fewest shots given up in a period this season by the Flyers.
Flames continued their best ever winning streak against the Flyers at the Spectrum in the EIHL – this now stands at five games.
Kyle Osterberg having set a new season high the night before for Time On Ice for a Flyers forward then bettered that with 27:47 of action.
Troy Lajeunesse has the 4th most shots on goal across all EIHL competitions with 50 – ahead of him are Devils Jamie Arniel (55) and a pair of Flames Peter Crinella (54) and Ryan Tait (51).
IN PICTURES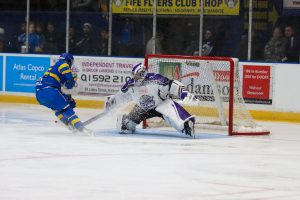 Pic Credits – Jillian McFarlane & Derek Young
FLYERS BY NUMBERS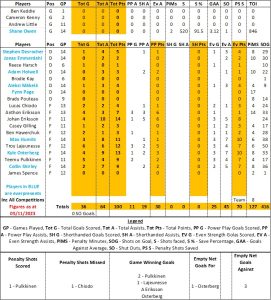 NOTE – information above is subject to verification by the EIHL
CHALLENGE CUP GROUP STANDINGS
LEAGUE STANDINGS
Who have the Refs Been ?