On Friday night……
Belfast Giants 7 Fife Flyers 4 – Challenge Cup
The Flyers winless streak against the Giants in Belfast was extended to 16 games.
It was the 9th consecutive win for the Giants in Challenge Cup action against the Flyers.
Flyers failed to score a goal in the first period for the 5th time in 7 games this season.
Flyers three goals in the third period were the first goals given up by the Giants this season in the final period in all domestic matches.
Congratulations to Lucas Chiodo for scoring his first competitive Flyers goal and Adam Holwell on recording his first Flyers point.
Troy Lajeunesse extended his scoring streak to 4 games a team best this season.
Both Troy and Collin Shirley extended their points streak to 4 games – a season team best.
On Saturday night ……
Fife Flyers 2 Belfast Giants 3 – Elite League
The Giants winning sequence against the Flyers now stands at 24 consecutive games overall and 12 in a row on Fife ice.
Flyers have yet to score a first period goal at home this season and only have first period goals in two of their eight games played.
Giants scored two goals in the third period, the first third period goals given up at home this season by the Flyers.
One of the Giants goals was on the powerplay and it was the first goal the Flyers penalty kill has conceded at home this season – they are now 12 for 13 on the kill.
The Giants fired 51 shots on Shane Owen, the highest number of shots given up this season and the most since December 2nd 2022 when Panthers had 52. The 22 Giants shots in the middle period was also a season high for a single period to be given up by the Flyers.
It was the first shootout involving the Flyers this season, they have lost their last two shootout decisions at home and overall they are now 28-25-1 in all EIHL competitions.
Troy Lajeunesse had his four game goal (and point) streak snapped but a point for Collin Shirley extended his points streak to a team season high of five games.
IN PICTURES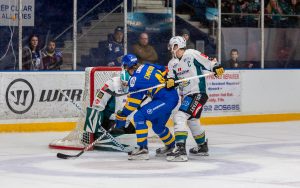 Pic Credits – Jillian McFarlane & Derek Young
FLYERS BY NUMBERS
NOTE – information above is subject to verification by the EIHL
CHALLENGE CUP GROUP STANDINGS
LEAGUE STANDINGS
Who have the Refs Been ?